Bushfire Prone Planning staff present at the 2018 WAIS Conference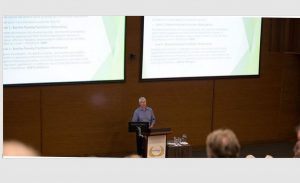 Locations: Perth, Margaret River, Albany, Bunbury, Busselton, Esperance, Mandurah
The WAIS (Western Australian Institution of Surveyors) Annual Conference: 'The Business of Surveying' was held Friday, 18 May 2018 at the University Club of Western Australia.
Titled 'The Business of Surveying', the conference representatives presented on a range of topics from why the surveying industry is important to the community, impacts on the potential privatization of Landgate and new projects on the horizon
Mike Scott (Bushfire Prone Planning Director) was invited to present at the conference due to the increasing overlap between surveying works and Bushfire Prone Areas in Western Australia. Mike delivered a 30-minute presentation on "Town Planning or Building – how are you affected by Bushfire Prone areas"
Mike Scott is one of Western Australia's most experienced Bushfire behaviour analysts. He has extensive experience in subdivision planning and development, bushfire risk management, strategic planning and state wide bushfire management.