Bushfire Consultants Based in Bunbury, Margaret River and Albany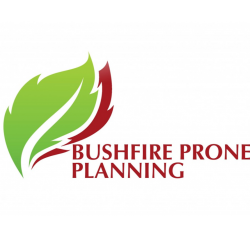 Locations: Prevelly, Gnarabup, Augusta, Cowaramup, Flinders Bay, Gracetown, Karridale, Kudardup, Margaret River, Witchcliffe, Abba River, Abbey, Acton Park, Ambergate, Anniebrook, Boallia, Bovell, Broadwater, Busselton, Carbunup River, Chapman Hill, Dunsborough, Eagle Bay, Geographe, Hithergreen, Jarrahwood, Jindong, Kalgup, Kaloorup, Kealy, Ludlow, Marybrook, Metricup, Naturaliste, North Jindong, Quindalup, Reinscourt, Ruabon, Sabina River, Siesta Park, Tutunup, Vasse, Walsall, West Busselton, Wilyabrup, Wonnerup, Yallingup, Yallingup Siding, Yalyalup, Yelverton, Yoganup, Yoongarillup, Bunbury, Carey Park, College Grove, Davenport, East Bunbury, Glen Iris, Mangles, Marlston Hill, Pelican Point, Picton, South Bunbury, Usher, Vittoria, Withers, Wollaston, Albany, Bayonet Head, Big Grove, Bornholm, Cheynes, Collingwood Heights, Collingwood Pak, Cuthbert, Drome, Elleker, Emu Point, Frenchman Bay, Gledhow, Gnowellen, Goode Beach, Green Valley, Green Range, Kalgan, King River, Kojaneerip South, Kronkup, Lange, Little Grove, Lockyer, Lower King, Lowlands, Manypeaks, Marbelup, McKail, Mettler, Middleton Beach, Millbrook, Milpara, Mira Mar, Mount Clarence, Mount Elphinstone, Mount Melville, Nanarup, Napier, Nullaki, Orana, Palmdale, Port Albany, Redmond, Redmond West, Robinson, Sandpatch, Seppings, South Stirling, Spencer Park, Torbay, Torndirrup, Vancouver Peninsula, Walmsley, Warrenup, Wellstead, West Cape Howe, Willyung, Yakamia, Youngs Siding, ,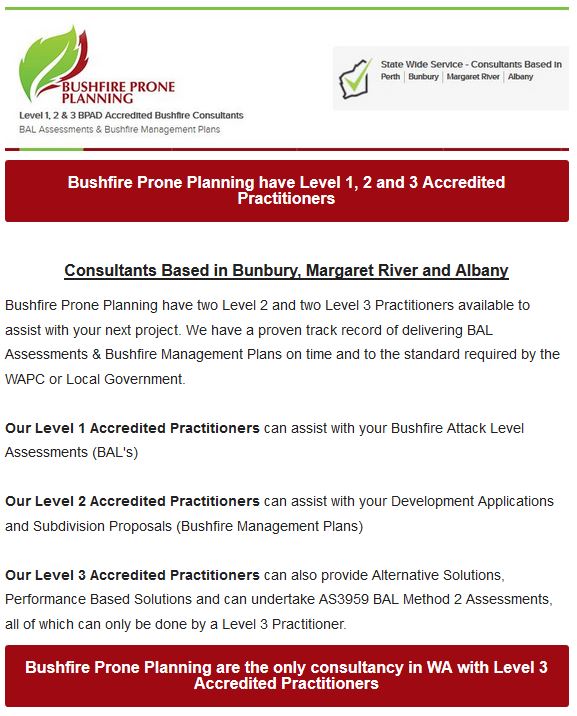 Bushfire Prone Planning Staff are available to assist with your questions regarding the application of the Updated Guidelines for Planning in Bushfire Prone Areas. We also welcome general enquiries regarding a Bushfire Attack Level (BAL) assessment for your next big project or an in depth Bushfire Management Plan (BMP) for a land development application. Our knowledgeable staff can be contacted on (6477 1144) or through the "Contact Us" section of our Website.